August 20 2020
Many people who are in the process of choosing the best English speaking country for immigration ask this question. Indeed, New Zealand, Canada, and Australia are the top three countries to pursue proactive, understandable and convenient immigration policies. Today, they are the most open and friendly English-speaking countries for immigration.
All of them repeatedly occupy the TOP places in completely different nominations and categories. For example, according to the Prosperity Index resource from the world-famous Legatum Institute Foundation, in 2019 New Zealand took the 7th place in the world ranking of comfortable countries, Canada – 14th, and Australia – 17th.
According to the world consulting company The Mercer Group, the most comfortable cities in 2019 were Auckland, New Zealand – 3rd place, Vancouver, Canada – 3rd place, Sydney, Australia – 11th place.
In this article, we will compare
CLIMATE
Of all the countries, Canada is closest to Russia in terms of climate – in the north, there are icy wastelands, in the south, there are rainy winters and long summers. Among the unusual for Russia and unfavourable climatic features, periodic tornadoes can be noted. Average annual temperatures range from -10°C in Iqaluit to +11°C in Vancouver.
In Australia, the opposite is true. A dry continent, where three quarters of the land is desert and semi-desert. Hot climate with light and uneven rainfall. There are droughts here, and the average annual temperature ranges from +15°C in Melbourne to +30°C in Darwin.
New Zealand is a quiet corner away from the world, always sunny and humid. Here, whichever direction you go, you will definitely come to a beautiful and, as a rule, empty beach. On the hilly and green North Island, the temperature difference is small. Average annual temperature in the region is +15°C +16°C. In the largest city of the North Island, Auckland, the temperature rarely drops to 0 degrees in winter and rarely exceeds +30 degrees in summer.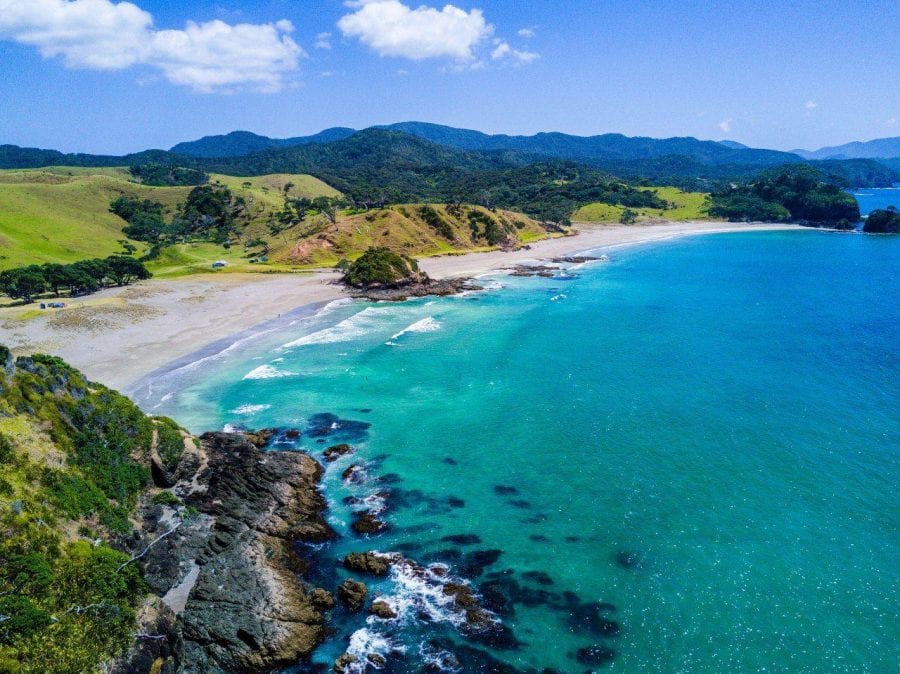 New Zealand beaches are wide and empty
HOSPITALITY
Separately, we would like to highlight a rather interesting point – tolerance, friendliness and hospitality, which is almost the most important indicator when assessing a country for immigration purposes. Psychologists say that immigration on a stress scale equates to the highest 100 points. The top ten most hospitable countries include New Zealand, the 5th place. A high percentage of foreign specialists and students from all over the world, the diversity of cultures and the language environment will help you adapt faster, avoiding unnecessary stress.
Unfortunately, Australia and Canada are not included in the top 10 tolerant countries.
ECOLOGY
In the modern world, environmental issues are given an important place, since the quality of the conditions around us has a direct impact on health and well-being. The environmental performance index will help us to objectively assess the environmental situation in Australia, Canada and New Zealand.
In 2020, a report was published at the World Economic Forum, in which the list of countries (180 participants) was assessed according to the ecological health of the country and the viability of its ecosystem, that is, the quality of water and air, the impact of the environment on human health, forest area, and efficiency were taken into account. measures that have been taken by the government to protect the ecosystem.
Of all the countries included in the report, Australia ranked 13th, Canada ranked 20th, and New Zealand ranked 19th. In addition to the numbers, we will also indicate the features of environmental problems in each of them.
Australia
In a number of Australian states, due to the chronic lack of water for agriculture, erosion has begun in already significantly depleted soils. In response to this alarming issue, Australia has strict water restrictions. Examples of such measures are a ban on washing the car, filling swimming pools, watering lawns and any surfaces.
Canada
In Canada, there is an acute problem of acid rain, which is causing great damage to both wildlife and arable land.
New Zealand
New Zealand diligently maintains a green and 100% pure image (100% Pure New Zealand). However, one of the main environmental problems of the country is soil degradation. The disappearance of trees has left much of the countryside inadequate from heavy rains, which quickly erase the fertile soil. New Zealanders are also particularly concerned about acidification, loss of vital organic elements, and declining numbers of earthworms and other soil-friendly organisms.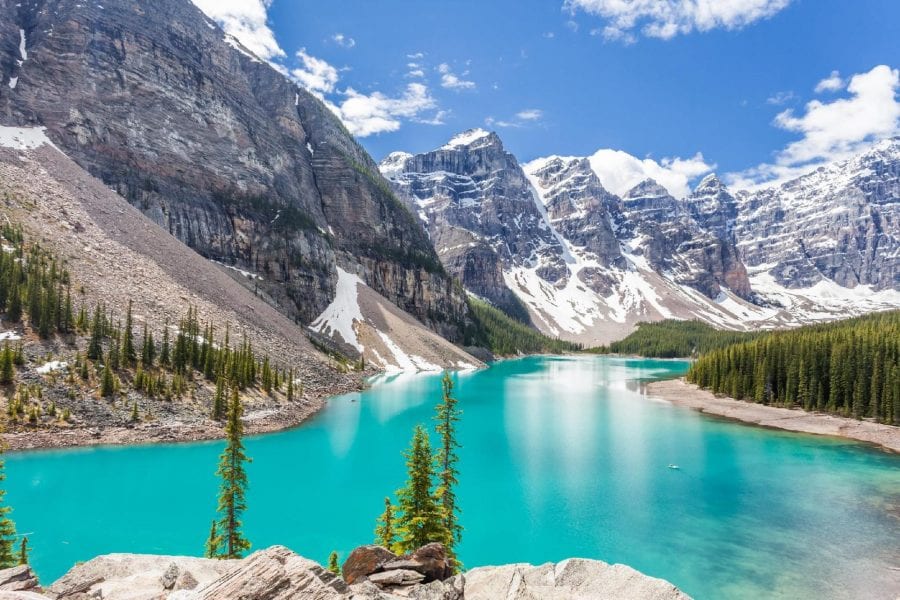 Canada is perfect for mountain trekking enthusiasts
DANGERS
In addition to the environmental problems presented, natural disasters and criminal attacks can occur. Therefore, we will also consider the criteria for personal safety here.
Crime
To quantify the crime rate in these countries, we used the Numbeo Safety Index for 2020. It is the world's largest database, which is generated based on information from users in various cities and countries around the world.
Countries
Crime rate

Australia

41.67

Low

New Zealand

42.18

Low

Canada

40.65

Low
Natural disasters
As for natural disasters, it is quite difficult to assess them in digital terms, so we will list the dangers encountered in countries and see the level of risk of their occurrence.
Australia attracts the world's attention with a large number of natural disasters, frequent tropical cyclones and, as a result, floods and storms along the coast of the country. At the same time, the south and southwest of the country suffer from drought and soil erosion. There are a lot of poisonous insects and reptiles here. Let's not forget about sharks.
Canada also has its own geographical features, earthquakes and floods are less common here, but tornadoes and hurricanes can be found often, sometimes their consequences are frighteningly destructive. There is another danger here – bears. Remember the film "The Survivor" filmed in Canada, more precisely in the cities of Victoria, Burnaby and Calgary. Whoever watched the film will understand the horror of a bear attack on a person. They do not happen every day but for lovers of outdoor recreation it is better to keep in mind.
New Zealand is known for its seismic activity. Earthquakes in New Zealand occur due to the country's geographical location in the geologically active zone of the Pacific Volcanic Ring of Fire. At the same time, the state cares for its citizens and in order to ensure safety and prevent catastrophic consequences, New Zealand has strict building rules and regulations. One of the advantages is the absence of poisonous and deadly reptiles.
PROFESSIONAL IMMIGRATION
Inspired by the statistics? Have a desire to move to Australia, Canada or New Zealand? Then, let's consider possible ways of immigration starting with professional immigration.
In order to assess your chances of professional immigration to Canada or New Zealand, or to Australia, just go to the official websites of the immigration service of each country and use the points calculator. Each state has its own characteristics but despite this, there are mandatory criteria, without which it is simply impossible to collect the required minimum.
What is included in the minimum requirements
Education and work experience in a speciality that is included in the list of in-demand professions (each country has its own, but almost everywhere you can find IT, Engineering, Social workers);

A good level of English, usually equivalent to IELTS 6.5 or more (in Canada, you can get additional points for knowledge of the French language);

Absence of dangerous infectious diseases and convictions;

Age (the maximum number of points is given in the interval from 18 to 35 years. The further you go on the age scale from 35 years old, the more points you lose);

Availability of funds (depending on the country and the availability of a work contract, if it is on hand, it is possible to avoid this clause). Below are the features of each country's immigration systems.
Canadian immigration system
Has several options for programs at the federal and provincial level. The main federal programs are the Federal Skilled Worker Program and the Federal Skilled Trades Program, which give absolute priority to applicants with work experience in Canada or a formalised job offer. In addition, all provinces of Canada have their own immigration programs, Provincial Nominee Programs (PNP), aimed at attracting certain categories of foreigners to this province. But you need to understand that these programs are just a recommendation (Provincial Nomination Certificate) for the federal government. Finally, you should be aware that if you are immigrating under a provincial program, you are not allowed to reside in another state of Canada. So it is very important here to study the living conditions in this province, as a rule, they are not very attractive for local residents.
Australian system
Has several types of immigration programs for highly qualified specialists. Skilled – Independent Visa (Subclass 189) and Skilled – Nominated Visa (Subclass 190) allow the applicant to obtain a permanent resident visa and reside in any city or state in Australia. The nominated category is distinguished by the requirement to obtain state sponsorship. Moreover, state sponsorship means only the potential interest of the state in you as a specialist since this profession is in short supply in this region. Skilled – Nominated or Sponsored (Provisional) Visa (Subclass 489) allows the applicant to travel to one of the regions of Australia (with the exception of such major cities as Sydney, Melbourne, Perth, Brisbane) on a temporary 4-year visa, and, having lived in this region for 2 years, obtain a permanent resident visa.
New Zealand
The simplest professional immigration category to understand is the Skilled Migrant Category, which is available for people up to 55 years old inclusive. A sufficient number of points can be gained if you are under 40 years old, have a completed master's degree and 10 years of work experience in a demanded speciality, as well as a partner with higher education. If the points are not enough, they can be obtained by finding a job in New Zealand or completing education.
So, if you collect enough points for professional immigration, congratulations, you can stop reading, although… As a rule, consideration of documents for these categories takes from 3 to 12 months and, as before, there are no guarantees of a positive answer. So, if you do not have time to wait or your speciality is not included in the lists of in-demand specialities, or you do not have enough work experience or English, education programs will be interesting for you.
IMMIGRATION THROUGH EDUCATION
Attracting foreign students to study with the provision of them in the future with the opportunity to get a job in the host country in recent years has become one of the main directions in the immigration policy of Australia, Canada and New Zealand. For this reason, learning for the future and building a career is considered one of the most reliable ways of immigration.
To enter all foreign universities, you must also meet the initial requirements, without which you simply cannot get a passing grade. Consider the case when a student was educated in his country and wants to improve their qualifications or deepen their knowledge in a certain area.
1. Australia is quite strict in terms of caring for its students.
Firstly, if you do not have a sufficient level of English (IELTS 6.0-6.5), unfortunately, you will not be able to enrol in Austria. And in order to take the test in Australia, you must first pay for at least three-month language courses, and only in this case, a student visa will be issued without the right to extend within Australia (no further stay condition). After the end of the visa, you need to return to your home country and again apply for a visa to continue your studies.
Secondly, even after successful completion of the program at a university, without a labour contract on hand, obtaining a work visa can become a real problem. In fact, you do not have any privileges, you also submit documents, and your speciality is assessed according to the demand in the labour market. If the skills do not interest the consul, you will have to buy a return ticket to your homeland. And even those who studied in a speciality from the list of demanded ones must study for 2 years in order to apply for a work visa upon graduation.
The average cost of education in Australian universities ranges from US$ 9 000 to US$ 25 000 per year.
2. Canada is multifaceted in terms of its educational policy, as there are many provincial programs.
First, let's start with the admission requirements. All universities require proof of knowledge of the English language. Those who do not have TOEFL or IELTS certificates can complete a language (academic) preparation course at a college, university or language school (University Pathway Program). The duration of the program depends on the level of the English language but is not less than 10 weeks. Secondly, after graduation, you are given an open work permit in Canada for a period comparable to the period of study but not more than 3 years. In addition, it is necessary to study the minimum for 2 years to apply for an automatic work visa. An open permit means you can take any job without any restrictions. However, you must remember that for immigration, you need to work in specialities that require a high level of education.
The average cost of education in universities in Canada ranges from US$ 9 000 to US$ 25000 per year.
3. New Zealand is still easy to understand and simple to follow.
The immigration government is trying to make the conditions of stay in New Zealand for students more comfortable and easier in all respects. First, one of the nice things is the Pathway Student Visa. If you do not have IELTS on hand you can come to language courses and, after passing the language test, enter the university. And now, you can do this with one visa, which is issued for the entire period of study at once. It is convenient and reduces the cost of visa renewals.
Read more about the ways of immigration to New Zealand.
Secondly, after graduating from the diploma program, you have the right to receive a Post Study Work Visa for a period of 1 to 3 years (depending on the chosen program), according to which you can work with anyone and anywhere. However, if you plan to apply for permanent residence, it is better to find a job in the received qualification. Moreover, if you already have education and/or experience, 1 year of study is enough to obtain an automatic work visa upon graduation.
The average cost of education in universities in New Zealand ranges from US$ 6 000 to US$ 15 000.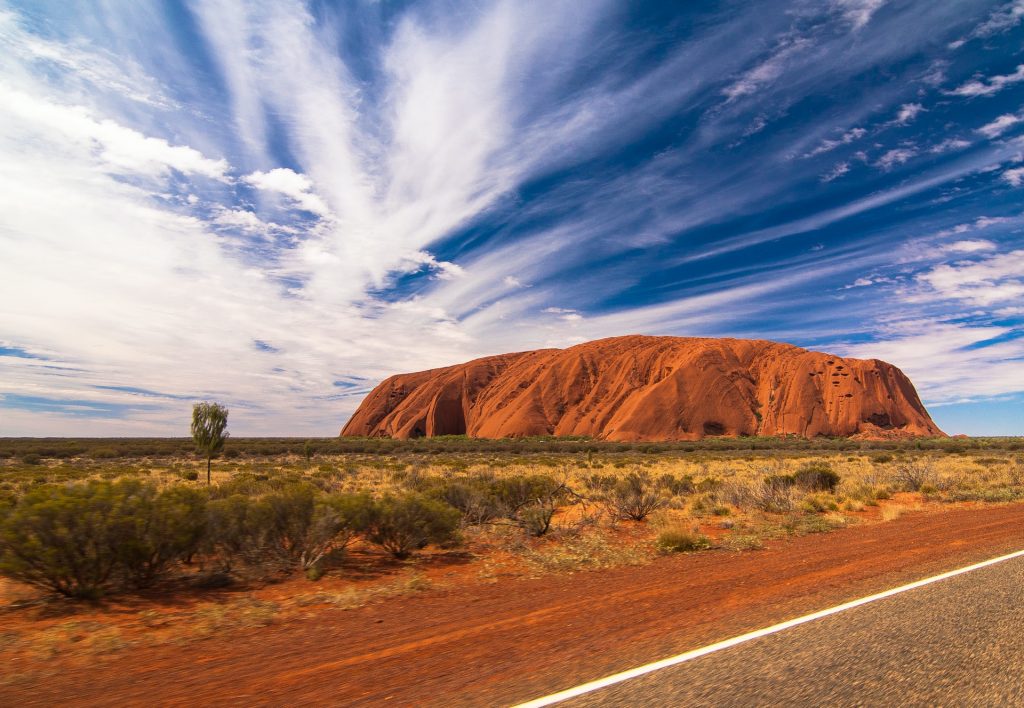 Australia is a dry continent with a hot climate
EMPLOYMENT PROSPECTS
Having a job provides many important benefits, including a source of income, increasing the level of social integration, self-realisation. The main indicator for assessing employment in the countries is the unemployment rate. Unemployed means people who do not work at the moment but would like to find a job and are actively looking for it.
| Country | Percentage of unemployment in the country |
| --- | --- |
| New Zealand | 4.07% |
| Australia | 5.3% |
| Canada | 5.67% |
Judging by the figures, the unemployment rate in all the countries presented is quite low so it is quite possible to look for a job but everything, of course, will depend on your expectations, skills and level of English. Still, you need to understand that foreigners need to be head and shoulders above the locals, stand out, have a reserve of patience and the ability to present themselves.
AVERAGE Wages
Median, average salaries
In New Zealand – NZ$ 53,000 per year.

In Canada – C$ 53,000.

In Australia – AU$ 57,200.
The minimum wage for 2020 is
New Zealand – NZ$ 18.90 per hour.

Canada – C$ 11.06 per hour.

Australia – AU$ 19.49 per hour.
Average salaries by profession
IT specialists. Software Development Average Salary
New Zealand – from NZ$ 95,000 per year.

Canada – from C$ 72,000 per year.

Australia – from AU$ 80,000 per year.
Business professionals. Marketing Manager
New Zealand – NZ$ 70,000- $ 73,000 per year.

Canada – C$ 50,000- $ 53,000 per year.

Australia – AU$ 60,000- $ 80,000 per year.
Engineering specialists. Electrical Engineers
New Zealand – NZ$ 89,000 per year.

Canada – C$ 80,000 per year.

Australia – AU$ 70,000- $ 100,000 per year.
Builders. Carpenter.
New Zealand – NZ$ 60,000 per year.

Canada – C$ 50,000 per year.

Australia – AU$ 60,000- $ 80,000 per year.
THE PASSPORT VALUE AND THE WAITING TIME FOR CITIZENSHIP
In order to see the features of each passport, we used the Passport Index resource, where you can compare passports according to different criteria.
In the Global ranking, New Zealand's passport is in the 1st place, visa-free visits to 151 countries are available. Australia is in the 2nd place in this ranking with visa-free travel to 150 countries. Canada ranks 3rd and gives 152 visa-free travel countries.
Obtaining citizenship in these three countries can take from 3 to 5 years, depending on your adaptation in the country.
LET'S SUMMARISE
Each country has its own pros and cons. For some, New Zealand will be a desirable and comfortable country to live in, and for some, Canada or Australia. We tried to compare countries in terms of the main parameters, and in our opinion, small New Zealand is not inferior to Canada or Australia in terms of living standards and even wins in some ways.
Do not be afraid of the country's remoteness and island lifestyle. From the first day of your stay, you will feel a friendly atmosphere and detachment from world problems and interethnic conflicts. And over time, you will understand all the delights of outdoor activities with magical landscapes – surfing, kayaking, as well as simple hiking tourism with the same positive students from all over the world. This not only makes people kinder but also expands the boundaries of their perception of the world.
We will be happy to help you think over the whole way from start to finish in order to choose the most effective options specifically for your case. Our consultation and assessment of the chances of obtaining a student visa are free of charge. To get a consultation, fill out our form.
Read more: